Applicants: Please note that the GRE test requirement for applying to these programs has been waived until further notice due to a decrease in testing availability during the pandemic.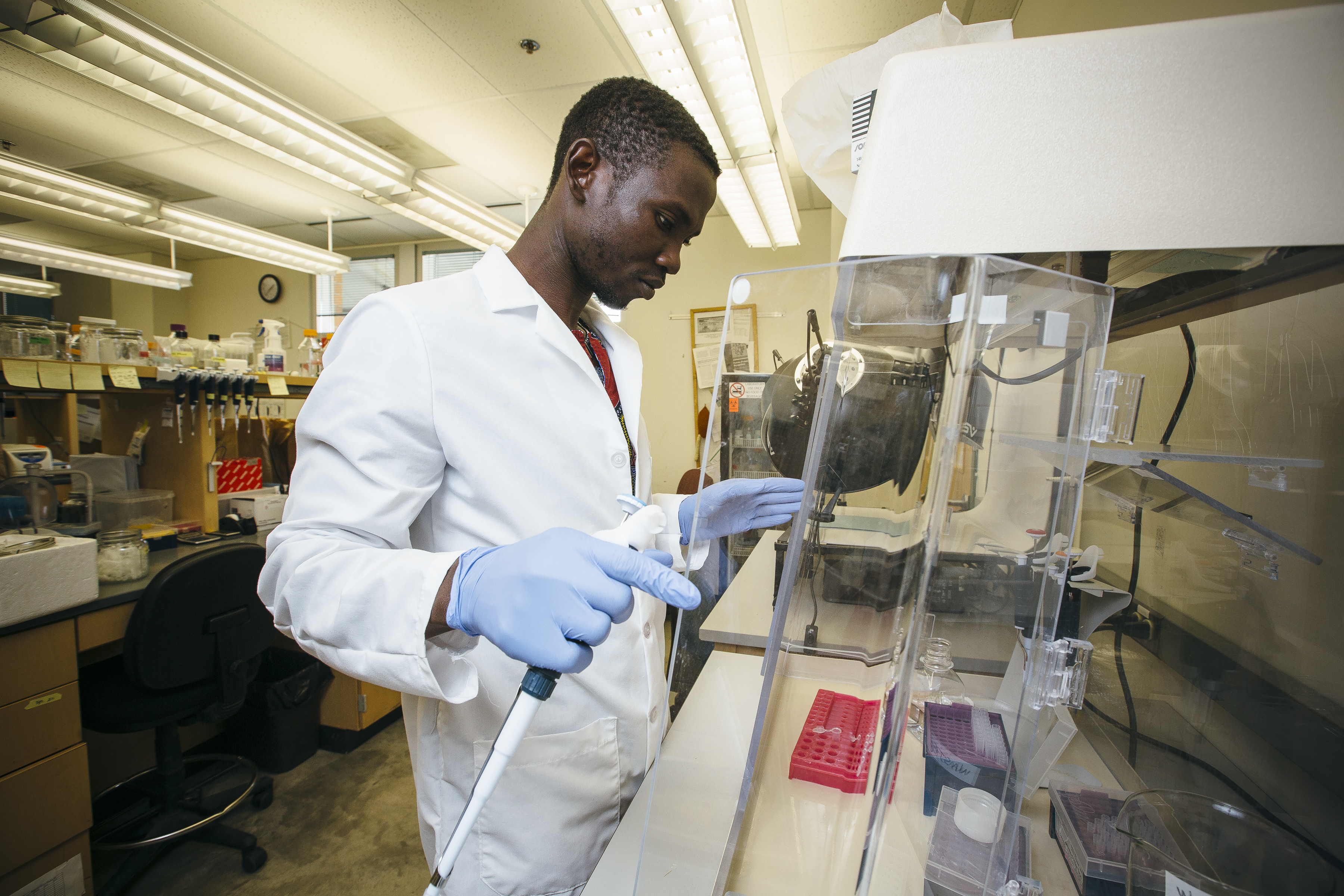 Bernard Nyamesorto, a doctoral student from Ghana in the Department of Plant Sciences and Plant Pathology, recently won the graduate research competition at the Borlaug Global Rust Initiative technical workshop for his research in rust-resistant wheat.
Overview
We are pleased you are interested in one of our rigorous and competitive graduate programs in the Plant Sciences and Plant Pathology Department. Our faculty is involved in both teaching and research, which gives graduate students the benefit of hands on experience in the laboratories, classrooms and research activities. We excel in designing a program of study that will meet each student's needs and prepare them for a professional career or continued training and education.
The Department of Plant Sciences and Plant Pathology offers a rich, diverse graduate curriculum taught by award-winning researchers and supplemented by world-class facilities. As a graduate student of Plant Science and Plant Pathology, you will have the opportunity to influence the future of crop production, play an essential role in maintaining the nation's food supply, develop new technology to manage crop pests, and study the genetics of crops to influence their management and quality.
Plant Sciences Graduate Programs
Program Type
Degree
Program Options
Required Coursework
Masters

Plant Pathology

Plant Sciences

Doctoral
Plant Sciences

Plant Pathology

Plant Genetics

Ph.D. in Plant Sciences Coursework
Before you Apply
Before submitting an application through the MSU Graduate School, you will need to secure a department faculty adviser. You will find a list of faculty members and their areas of interest under this directory. You may e-mail them directly with any specific questions you may have about research opportunities in the department. If a faculty member expresses interest, you will be invited to submit an application. If you apply without securing an adviser, there will be an option of selecting "none" when asked if you have an advisor. If you choose this option, your application will be placed on our faculty website for their perusal for 6 months.
All prospective Plant Sciences and Plant Pathology graduate students are required to submit an informational survey to the department, prior to submitting a full Graduate Application, in order to determine if your qualifications are best suited for our current needs.
For more information about applying to the PSPP Department for graduate studies, contact:
Graduate Program Advisor: plantsciences@montana.edu, (406) 994-4832

Graduate Application Deadlines
Domestic Degree-seeking Applications:
Fall Semesters- July 15th
Spring Semesters- December 1st
Summer Semesters- April 1st
International Degree and Non-degree-seeking Applications:
Fall Semesters- May 15th
Spring Semesters- October 1st
Summer Semesters- February 1st
Minimum TOEFL Requirement - 80 (ibt)
Additional Information

PSPP Graduate Student Policies and Procedures