Prospective graduate students
We are pleased you are interested in one of our rigorous and competitive graduate programs in the Plant Sciences and Plant Pathology (PSPP) Department. PSPP faculty are involved in both teaching and research, which gives graduate students the benefit of hands-on experience in laboratories, classrooms, and research activities. We excel in designing a program of study that will meet each student's needs and prepare them for a professional career or continued training and education.
If interested in applying to The Graduate School and becoming a graduate student in the Plant Sciences and Plant Pathology (PSPP) Department, please follow the first five steps below (the 6th item doesn't necessarily pertain to everyone).
1. The GRE exam is not required. If needed, English Proficiency exams are listed on the Graduate School webpage, as are the minimum acceptable scores: TOEFL: 80, IELTS: 6.5, Pearsons: 58, Duolingo: 120.
2. Visit the PSPP faculty webpage and identify one or two prospective thesis advisor(s) for a research project that potentially interests both you and a prospective thesis advisor. Contact information is reported with each PSPP faculty member and email is often the preferred method of initiating communication.
3. Contact a prospective thesis advisor(s) and identify your shared research interests and inquire into the possibility of funding for a graduate research project.
4. Once communication has been established and ongoing with a prospective thesis advisor, you will be given an indication of whether you should apply to The Graduate School.
5. Although you can apply without having communicated with a prospective PSPP faculty (thesis) adviser, this is not ideal and your application will likely be denied.
6. You can express an interest in self-funding. If you are an international student, this is only if your travel visa stipulates you will self-fund your education at Montana State University. This is accomplished by working through the Office of the Director of International Student and Scholar Services at Montana State University. Your graduate program would then be 30 credits of coursework and not research-focused (a Plan B or professional MS degree; for suggested coursework, see PSPP Graduate Student Policies and Procedures section "Suggested MSU courses for PSPP graduate students"). You should establish communications with a prospective PSPP faculty member for your professional or Plan B MS degree who is will to serve as your advisor. The expected cost for an international student self-funding a one-year 30-credit professional (Plan B) MS degree is approximately $36,000. For a Montana resident, it is approximately $12,000. Visit this Graduate School webpage that details tuition costs.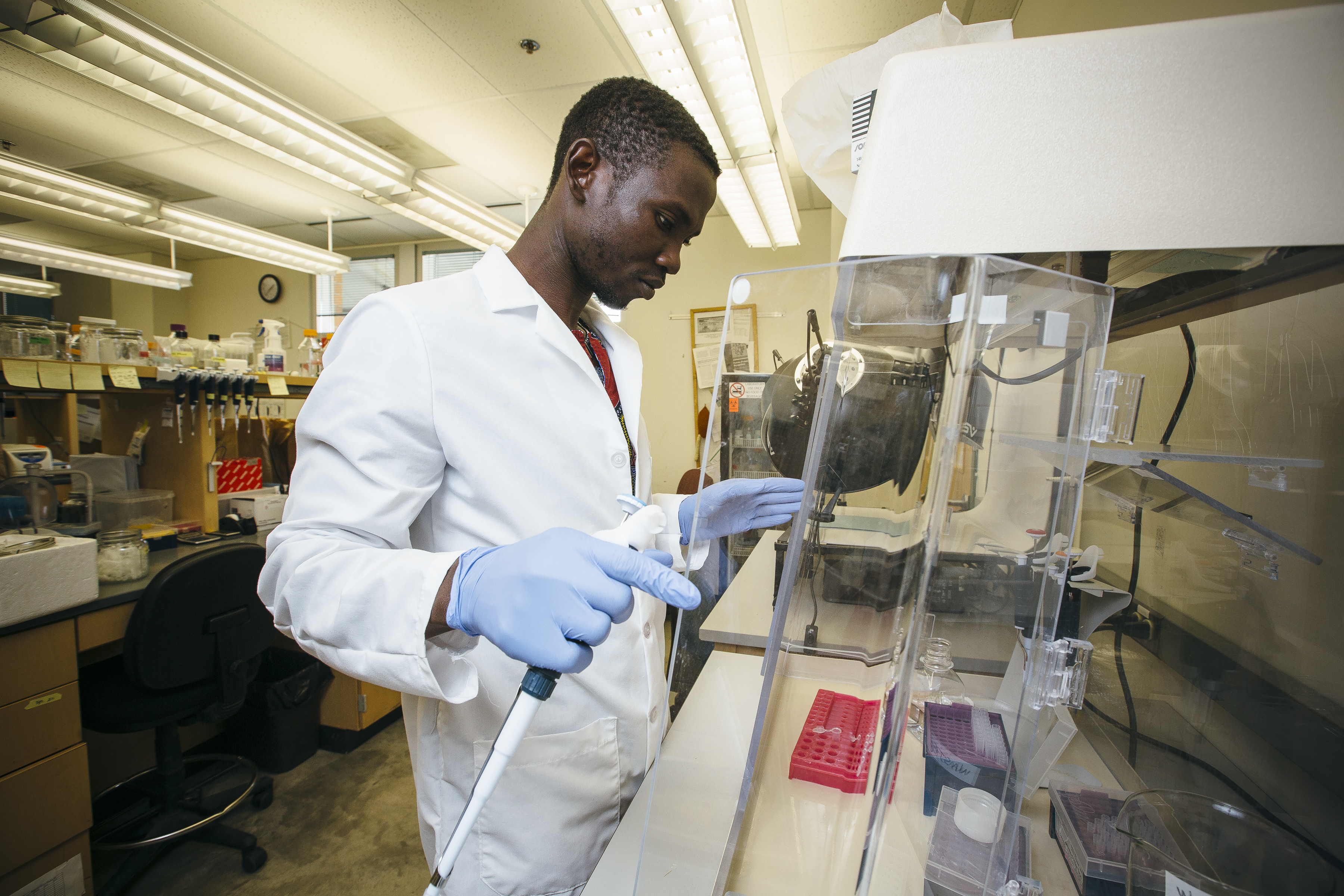 Bernard Nyamesorto, a doctoral student from Ghana in the Department of Plant Sciences and Plant Pathology, won the graduate research competition at the Borlaug Global Rust Initiative technical workshop for his research in rust-resistant wheat.
Overview
The PSPP Department offers a rich, diverse graduate curriculum taught by award-winning researchers and supplemented by world-class facilities. As a graduate student of in our Department, you will have the opportunity to, for example, influence the future of crop production, play an essential role in maintaining the nation's food supply, develop new technology to manage crop pests, and study the genetics of crops to influence their management and quality. Please visit the PSPP faculty webpage to identify a prospective thesis advisor, as suggested above.
Plant Sciences Graduate Programs
Program Type
Degree
Program Options
Required Coursework
Masters

Plant Pathology

Plant Sciences

M.S. in Plant Pathology or Plant Sciences (click on appropriate link at bottom of page)

Doctoral
Plant Sciences

Plant Pathology

Plant Genetics

Ph.D. in Plant Sciences (click on appropriate link at bottom of page)
Domestic Degree-seeking Application Deadlines*:
Fall Semesters- July 15th
Spring Semesters- December 1st
Summer Semesters- April 1st
*deadlines are not formal because applicants should be in communication with a prospective thesis advisor about the application process
International Degree and Non-degree-seeking Application Deadlines*:
Fall Semesters - May 15th
Spring Semesters - October 1st
Summer Semesters - February 1st
*deadlines are not formal because applicants should be in communication with a prospective thesis advisor about the application process
Additional Information

PSPP Graduate Student Policies and Procedures