REGIONAL PULSE CROPS DIAGNOSTIC LABORATORY
Department of Plant Sciences & Plant Pathology Bozeman, Montana
Healthy Seeds, Healthy Start
We test your pulse crops for pathogens and pests.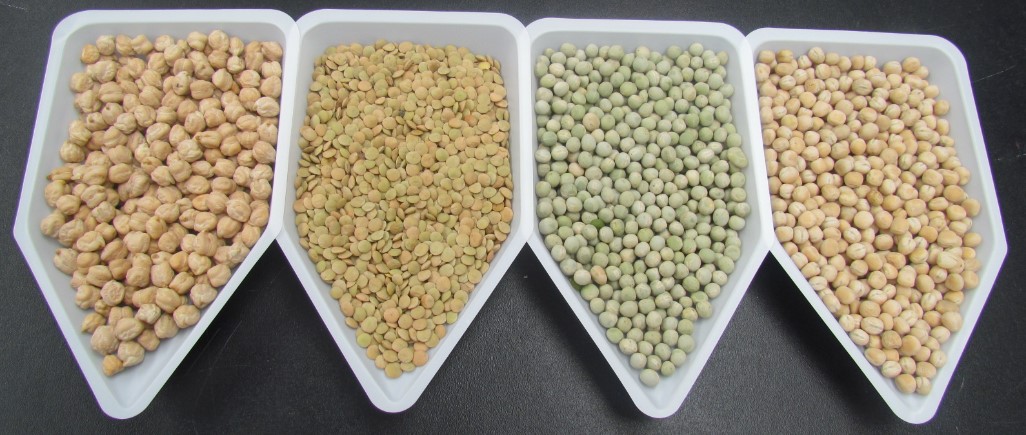 Chickpeas, lentils, green peas, and yellow peas
Who We Are
We are a regional diagnostic laboratory providing services for all pulse-growing states including Idaho, Montana, Nebraska, North Dakota, South Dakota, Oregon, and Washington.
Seed is representatively sampled for Ascochyta-Plus and nematode testing according to ISTA (International Seed Testing Association) protocols and guidelines. Samples are initially handled by the Montana State Seed lab, an AOSA (Association of Official Seed Analysts) lab.
We are the only laboratory exclusively dedicated to pulse crop pathogen diagnostics. Pulse crops consist of chickpea (Cicer arietinum

L.), lentil (Lens culinaris

Medik.), and field pea (Pisum sativum

L.).

Our goal is to increase pulse crop productivity by reducing pathogen-related decline in crop yield through rigorous testing of seed lots for economically important pathogens.

We are supported by Farm Bill APHIS 10201 funding, the Montana Department of Agriculture, MSU College of Agriculture, and the Dept. of Plant Sciences & Plant Pathology, Montana State University, Bozeman.

We collaborate with the Montana State Seed Testing Laboratory to offer general seed tests and tests for pathogens of pulse crops.


Why Test Seeds?
Seed-transmitted pathogens can introduce new diseases into a field and can perpetuate existing infestations. This results in yield reduction and poor quality seed. Testing helps to identify healthy seed lot for planting thus mitigating against pathogen-induced losses. In addition, importing countries (Asia, Europe, South America, etc.) have varying acceptable thresholds for seedborne pathogens. Many require exporting countries to test their seed lots to certify that they do not exceed the thresholds or the pathogen is not present. In order for the importing country to receive a shipment, it may require a 'phytosanitary certificate.' (Click on USDA-APHIS for more information.)
Information on pathogens of pulse crops can be obtained from the followings links below:
The Pulse Crop Diagnostic Laboratory is currently managed by:
Erin Gunnink Troth, Lab Manager
Department of Plant Sciences & Plant Pathology
Montana State University, Bozeman, MT 59717
Tel: 406-994-7738
Email: pulsediagnostics@montana.edu