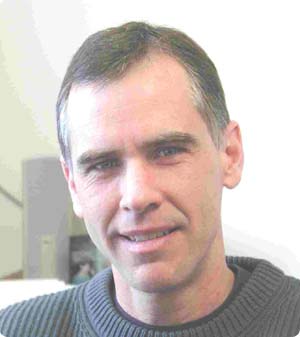 Robert A. Sharrock,
Professor
,
PhD. from University of California-Berkeley, 1981.
Office: 306 Plant BioScience Building
Lab: 331 Plant BioScience Building
Phone: 406-994-2472 or 4222
Fax: 406-994-7600
---
RESEARCH:
Research in the Sharrock laboratory focuses on two areas of plant molecular genetics: the mechanisms through which plants sense and respond to environmental light cues and the regulation of the development of the floral stem or inflorescence. For the first of these research areas, our overall objective is to understand how the phytochrome red/far-red photoreceptors trigger and coordinate plant developmental responses to the light environment. This work has employed molecular and genetic approaches to define the structures of the five Arabidopsis phytochromes, the physiological and developmental roles of these receptors, and their patterns of expression in the plant. Future research directions focus on early events in phytochrome activation and identification of components of the signal transduction pathways through which phytochromes modulate growth and developmental responses.
The second major focus of the lab is isolation of mutants that alter the growth and structure of the Arabidopsis flowering bolt, or inflorescence, and the identification of the genes that correspond to these mutations. Ultimately, our objective is to describe molecular pathways in plants that control internode elongation in the inflorescence stem and, therefore, determine critical aspects of plant reproductive architecture and adaptation.
AREA OF RESPONSIBILITY
Research in plant developmental genetics in the areas of plant light sensing and formation of plant reproductive structures; gene discovery and development of novel strategies for modification of plant responses to the environment; teaching BIOL 102 (Introductory Cell and Molecular Biology), BIOL 301 (Principles of Genetics), and BIOL 402(Advanced Cell Biology).
EDUCATION
B.S. Microbiology University of Minnesota
Ph.D. Microbiology University of California, Berkeley
MEMBERSHIPS IN PROFESSIONAL ASSOCIATIONS
American Association for the Advancement of Science
International Society for Plant Molecular Biology
American Society of Plant Biologists
RECENT PROFESSIONAL ACTIVITIES
Panel member, DOE Energy Biosciences (2000)
Panel member, USDA Plant Developmental Mechanisms (2001, 2003)
Panel member, EPSCoR State Competitive Grants Program - (2002)
COMMITTEE MEMBERSHIPS
Department Promotion and Tenure Committee
University Facilities Planning Board
COURSES TAUGHT
BIOB 160 - Principles of Living Systems
BIOB 375 - General Genetics
---
RECENT PUBLICATIONS
Refereed Journals
Eichenberg, K., Baurle, I., Paulo, N., Sharrock, R.A. Rudiger, W., Schafer, E. (2000) Arabidopsis phytochromes C and E have different spectral characteristics from those of phytochromes A and B. FEBS Letters470, 107-112.
Palecanda, L., Sharrock, R.A. (2001) Molecular and phenotypic specificity of an antisense PHYB gene in Arabidopsis. Plant Molec. Biol.46, 89-97.
Goosey, L., Sharrock, R.A. (2001) The Arabidopsis compact inflorescence genes: phase-specific growth regulation and the determination of inflorescence architecture. Plant J.26, 549-559.
Salomé, P.A., Michael, T.P., Kearns, E.V., Fett-Neto, A.G., Sharrock, R.A., McClung, C.R. (2002) The out of phase 1 (oop1) mutant defines a role for PHYB in circadian phase control in Arabidopsis. Plant Physiol.129, 1674-1685.
Sharrock, R.A., Clack. T. (2002) Patterns of expression and normalized levels of the five Arabidopsis phytochromes. Plant Physiol.130, 442-456.
Sharrock, R.A., Clack, T., Goosey, L. (2003) Differential activities of the Arabidopsis phyB/D/E phytochromes in complementing phyB mutant phenotypes. Plant Molec. Biol. 52, 135-142.
Sharrock, R.A., Clack, T., Goosey, L. (2003) Signaling activities among the Arabidopsis phyB/D/E-type phytochromes: a major role for the central region of the apoprotein. Plant J.34, 317-326.
Sharrock, R.A., Clack, T. (2004) Heterodimerization of type II phytochromes in Arabidopsis. Proc.Natl. Acad. Sci. USA101, 11500-11505.
Heschel, M.S., Selby, J., Butler, C., Whitelam, G.C., Sharrock, R.A., Donohue, K. (2007) A new role for phytochromes in temperature-dependent germination. New Phytologist174, 735-741.
Xu, X., Hotta, C.T., Dodd, A.N., Love, J., Sharrock, R., Lee, Y.W., Xie, Q., Johnson, C.H. and Webb, A.A.(2007) Distinct light and clock modulation of cytosolic free Ca2+ oscillations and rhythmic CHLOROPHYLL A/B BINDING PROTEIN2 promoter activity in Arabidopsis. Plant Cell. 19, 3474-3490.
Donohue, K., Heschel, M.S., Butler, C.M., Barua, D., Sharrock, R.A., Whitelam, G.C. and Chiang, G.C.K.(2008) Diversification of phytochrome contributions to germination as a function of seed-maturation environment. New Phytologist177, 367-379.
George, L., Romanowsky, S.M., Harper, J.F. and Sharrock, R.A.(2008) The ACA10 Ca2+ ATPase regulates adult vegetative development and inflorescence architecture in Arabidopsis. Plant Physiol. 146, 716-728.
---
CURRENT PROGRAMS
Research
Genes Controlling Inflorescence Architecture in Arabidopsis – USDA-NRI funding.
Functions and Interactions of the Arabidopsis phyB/D/E phytochromes - NSF funding