Chaofu Lu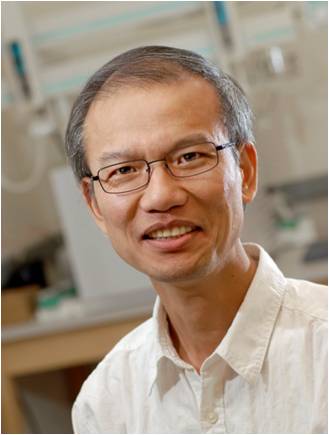 Chaofu Lu, Assistant Professor, Ph.D. Institute of Genetics, Chinese Academy of Sciences, 1998
Office: 314 Plant BioScience Building
Lab: 332 Plant BioScience Building

Office Phone: 406-994-5741
Lab Phone: 406-994-7865
Fax: 406-994-7600
Email: clu@montana.edu
---
EDUCATION
RESEARCH INTERESTS
Many plant species including Arabidopsis thaliana store triacylglycerols (TAGs) in their seeds as carbon reserve. These TAGs are the major source of energy and carbon material that support seedling development during the early stages of plant life. Vegetable oils from soybean (Glycine max), canola (Brassica napus or B. rapa), sunflower (Helianthus annuus) and many other oilseed crops are also an important source of human diet or industrial applications such as biofuels, biolubricants, nylon precursors and detergent feedstocks. My research goal is to make contributions to our understanding of genetic and biochemical factors that control fatty acid and lipid biosynthesis in oilseed plants.
Camelina (Camelina sativa L. Crantz.), also known as false-flax or gold-of-pleasure, is an ancient oilseed crop. It has received much attention recently due to the low-input production cost that is particularly desirable for industrial applications. We are using traditional and modern genetic approaches to improve camelina characters, especially seed oil fatty acid compositions, in order to develop an economical oilseed crop for biofuels (Biodiesel and jet fuels) and biomaterial production.
---
CURRENT PROGRAMS
Research
Biochemical genomics: Quizzing the chemical factories of oilseeds - (A collaborative project funded by the NSF Plant Genome Research Program)
Production of biobased lubricants in a dedicated oilseed crop (Funded by USDA)
Teaching
Plant Physiology (BIOL433)
SELECTED PUBLICATIONS
Refereed Research Articles
Chaofu Lu, Johnathan Napier, Thomas Clemente and Edgar Cahoon, 2011. New Frontiers in Oilseed Biotechnology: Meeting the Global Demand for Vegetable Oils for Food, Feed, Biofuel, and Industrial Applications. Current Opinion in Biotechnology 22: 252-259.

Grace Q. Chen, Jiann-Tsyh Lin and Chaofu Lu, 2011. Hydroxy fatty acid synthesis and lipid gene expression during seed development in Lesquerella fendleri (L.) Industrial Crops and Products

doi:10.1016/j.indcrop.2010.08.003.

Jinling Kang, Anna R. Snapp and Chaofu Lu, 2011. Identification of three genes encoding microsomal oleate desaturases (FAD2) from the oilseed crop Camelina Sativa. Plant Physiology and Biochemistry 49: 223-229.

Jinrui Zhang, John M. Martin, Brian Beecher, Chaofu Lu, L. Curtis Hannah and Michael J. Giroux, 2010. The wheat puroindoline genes increase germ size and seed oil content in transgenic maize. Plant Molecular Biology 74:353-365.

Chaofu Lu, Zhanguo Xin, Zhonghai Ren, Matrine Miquel and John Browse, 2009. A new enzyme regulating triacylglycerol composition is encoded by the ROD1 gene of Arabidopsis. Proc. Natl. Acad. Sci. USA 106:18837-18842.

Chaofu Lu and Jinling Kang, 2008. Generation of transgenic plants of a potential oilseed crop Camelina sativa by Agrobacterium-mediated transformation. Plant Cell Reports 27: 273-278.

Julie Burgal, Jay Shockey, Chaofu Lu, John Dyer, Tony Larson, Ian Graham and John Browse. 2008. Metabolic engineering of hydroxy fatty acid production in plants: RcDGAT2 drives dramatic increases in ricinoleate levels in seed oil. Plant Biotechnology Journal 6: 819-831.
Chaofu Lu, Jim Wallis and John Browse, 2007. Analysis of expressed sequence tags (ESTs) from a full-length cDNA library of developing castor seeds. BMC Plant Biology 7 (1):42.

Gennidakis S, Rao S, Greenham K, Uhrig R, O'Leary B, Snedden W, Lu C and Plaxton W, 2007. Bacterial- and plant-type phosphoenolpyruvate carboxylase polypeptides interact in the hetero-oligomeric Class-2 PEPC complex of developing castor oil seeds. The Plant Journal 52: 839-849.

Chaofu Lu, Martin Fulda, Jim Wallis and John Browse, 2006. A high-throughput screen for genes from castor that boost hydroxy fatty acid accumulation in seed oils of transgenic Arabidopsis. The Plant Journal 45, 847-856. [Highlighted research in Arabidopsis of 2006 selected by the Multinational Arabidopsis Steering Committee].

Chaofu Lu, Shen Bayon de Noyer, DH Hobbs, J Kang, Y Wen, D Krachtus and MJ Hills, 2003. Expression pattern of diacylglycerol acyltransferase-1, an enzyme involved in triacylglycerol biosynthesis, in Arabidopsis thaliana. Plant Molecular Biology 52(1):31-41.

Chaofu Lu and Matthew J. Hills, 2002. Arabidopsis mutants deficient in diacylglycerol acyltransferase display increased sensitivity to abscisic acid, sugars, and osmotic stress during germination and seedling development. Plant Physiology 129 (3): 1352-1358.

He Ping, Li Jinzao, Zheng Xianwu, Shen Lishuang, Lu Chaofu, Chen Ying and Zhu Lihuang, 2001. Comparison of molecular linkage maps and agronomic trait loci between DH and RIL populations derived from the same rice cross. Crop Science 41, 1240-1246.

Hobbs DH, Lu Chaofu and Hills MJ, 1999. Cloning of a cDNA encoding diacylglycerol acyltransferase from Arabidopsis thaliana and its functional expression. FEBS Letters 452 (3): 145-149.

He Ping, Shen Lishuang, Lu Chaofu, Chen Ying and Zhu Lihuang, 1998. Analysis of quantitative trait loci which contribute to anther culturability in rice (Oryza sativa L.). Molecular Breeding 4 (2) 165-172.

Lu Chaofu, Shen Lishuuang, Tan Zhenbo, Xu Yunbi, He Ping, Chen Ying, Zhu Lihuang, 1997. Comparative mapping of QTLs for agronomic traits of rice across environments by using a doubled-haploid population. Theoretical and Applied Genetics 94 (1) 145-150.
Edited Book
Chaofu Lu, John Browse and Jim Wallis (2011) "cDNA libraries: Methods and Applications" in the "Methods in Molecular Biology" series Vol. 279 (Springer) Humana Press. http://www.springerprotocols.com/BookToc/doi/10.1007/978-1-61779-065-2
Book Chapters
Chaofu Lu, James G. Wallis, and John Browse. Chapter 3. Construction of a Full-Length cDNA Library from Castor Endosperm for High-throughput Functional Screening. in Chaofu Lu et al. (eds.), cDNA Libraries: Methods and Applications, Methods in Molecular Biology, vol. 729, DOI 10.1007/978-1-61779-065-2_3, © Springer Science+Business Media, LLC 2011

Pilgeram AL, DC Sands, D Boss, N Dale, D Wichman, P Lamb, Chaofu Lu, R Barrows, M Kirkpatrick, B Thompson, and DL Johnson, 2007. Camelina sativa, A Montana Omega-3 and Fuel Crop. Issues in New Crops and New Uses. pp 129-131. J. Janick and A. Whipkey (eds.). ASHS Press, Alexandria, VA.

MJ Hills, DH Hobbs, J Kang and C Lu, 2003. Diacylglycerol acyltransferase 1 of Arabidopsis thaliana. In N. Murata et al. (eds) Advanced Research on Plant Lipids, 143-146. Kluwer Academic Publishers. Dordrecht, The Netherlands.

Lihuang Zhu, Chaofu Lu, Ping Li, Lishuang Shen and Yunbi Xu, 1995. Using doubled haploid populations of rice for quantitative trait locus mapping. In G. S. Khush (eds) Rice Genetics III, 631-635

Other
Chaofu Lu
, 2008.
Camelina sativa
: A Potential Oilseed Crop for Biofuels and Genetically Engineered Products.
Information System of Biotechnology News Report
. January 2008.
Last updated - 05/05/2011