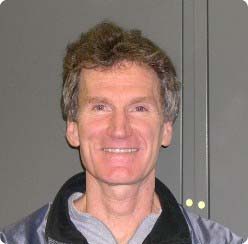 Matt Lavin
: Professor, PhD from The University of Texas at Austin, 1986.
Office: 308 Plant BioScience Building
Lab: 332 Plant BioScience Building
Office Phone: 406-994-2032
Fax: 406-994-7600
---
For information on Research, Teaching, and Service interests and responsibilities,
please go to: http://www.montana.edu/mlavin/index.html.
RESEARCH INTERESTS
The emphasis of my research is on the molecular systematics and biogeography of the biodiverse legume plant family (Fabaceae or Leguminosae), including the cultivated species, and the study of patterns of plant biodiversity across large landscapes using community phylogenetic approaches. The latter involves the application of neutral ecology and phylogeny to understand niche conservation and dispersal limitation within and among metacommunities or biomes. The metacommunities or biomes of interest to me are those with pronounced dry seasons, such as seasonally dry tropical woodlands (rich in succulent taxa such as Cactaceae and Euphorbiaceae), tropical savannas and associated forests (rich in grass species), deserts, and in particular the sagebrush steppe of western North America. Community phylogeny integrate the fields of community ecology, taxonomy, and phylogeny. In these regards, I am interested in the flora of Montana and the taxonomy of biodiverse plant families such as the grass family (Poaceae) because such families dominate the open arid regions of western North America. These interests happily coincide with my teaching responsibilities, which include plant systematics and agrostology (e.g., see Grasses of Montana).
AREA OF RESPONSIBILITY
Research in molecular phylogenetics, including the legume or pea family, instruction of courses in evolutionary biology (BIOB 420 and undergraduate and graduate seminars) and plant systematics (AGSC 434 and BIOO 435), graduate and undergraduate advising, and director of the Montana State University Herbarium.
EDUCATION
B.S. 1978. Biology, University of Nevada at Reno.
M.S. 1981. Botany, University of Nevada at Reno.
Ph.D. 1986. Botany, University of Texas at Austin.