Laurie Kerzicnik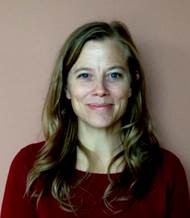 Laurie Kerzicnik, Insect Diagnostician and Assistant IPM Specialist, Ph.D. from Colorado State University, 2011.

Office/Lab: 56 Marsh Lab
Office/Lab Phone: 406-994-5704

Fax: 406-994-3786
Email Laurie Kerzicnik
---
AREA OF RESPONSIBILITY
My primary responsibility is as an Insect Diagnostician at the Schutter Diagnostic Lab, which serves to assist with pest identifications, management advice, and education for Montana. My other responsibility is Assistant IPM Specialist for the MSU Urban IPM program and the MSU School IPM Program. My background is in educational outreach and integrated pest management with spiders in agroecosystems.
EDUCATION
B.S. Zoology, Miami University, 1995
M.S. Entomology, Colorado State University, 2002
Ph.D. Entomology, Colorado State University, 2011
MEMBERSHIPS IN PROFESSIONAL ASSOCIATIONS
Entomological Society of America
American Arachnological Society
PUBLICATIONS
Refereed Journals
Kerzicnik LM, FB Peairs, PE Cushing, ML Draney, SC Merrill. 2013. Spider fauna of semi-arid eastern Colorado agroecosystems: diversity, abundance, and effects of crop intensification. Environmental Entomology 42: 131-142.
Kerzicnik LM, EG Chapman, JD Harwood, FB Peairs, PE Cushing. 2012. Molecular characterization of Russian wheat aphid consumption by spiders in winter wheat. Journal of Arachnology40: 71-77.

Kerzicnik LM, FB Peairs, JD Harwood. 2010. Implications of Russian wheat aphid, Diuraphis noxia, falling rates for biological control in resistant and susceptible winter wheat. Arthropod-Plant Interactions 4: 129-138.