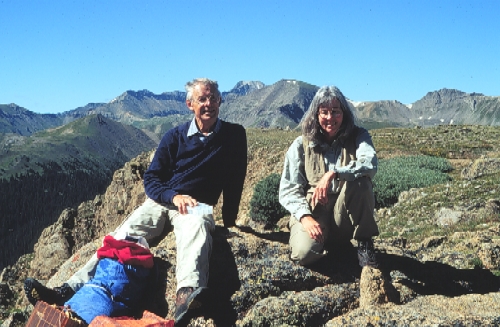 Dr. Cathy L. Cripps, Principal Investigator
I am currently an adjunct assistant professor in the new Plant Sciences Department at Montana State University, conveniently located in the Rocky Mountains. Bozeman is a short drive from one of the largest expanses of alpine terrain in North America, the Beartooth Plateau, and within striking distance of alpine habitats in Wyoming, Colorado, and Montana. I have studied agarics in the Rocky Mountains in one way or another since 1971 when I moved to a small cabin deep in the heart of the Rocky Mountains after receiving by my B.S. from the University of Michigan. Since then I completed my MS and PhD at Virginia Polytechnic Institute (VPI) where I studied with Dr. Orson K. Miller, Jr., agaricologist extrordinaire, and examined the diversity, ecology, and potential application of ectomycorrhizal fungi associated with quaking aspen (Populus tremuloides) in the western US. I have returned to the Rocky Mountains and focused my research on the ecological and taxonomic aspects of higher fungi, primarily Basidiomycetes (Agaricales i.e. the gilled mushrooms), in mountain systems. I am presently examining on the alpine mycota of the Rocky Mountains. Friends who are mountain trekkers tell me only puffballs exist above treeline, but we are busy cataloging several hundred collections and numerous species of alpine mushrooms! The mycoflora of the Rocky Mountain alpine is quite diverse, with many typical arctic-alpine species as well as some not known from other cold-dominated regions. The genus Inocybe is a special interest, and the alpine mycota is rich in quantity as well as quality, a particular plus for me!!!
Selected publications
Cripps, C. L., and Miller, O.K., Jr, 1993. Ectomycorrhizal fungi associated with aspen on three sites in the north-central Rocky Mountains. Canadian Journal of Botany, 71: 1414-1420.
Cripps, C. L., 1997. The genus Inocybe in Montana aspen stands. Mycologia 89(4): 670-688.
Cripps, C. L., and Miller, O.K., Jr., 1994. A new Cortinarius from a mature aspen stand. Mycotaxon, Vol 50:315-321.
Cripps, C., 1995. Mycorrhizal fungi in quaking aspen stands of Montana and Idaho.McIlvainea 12(1):26-33.
Cripps, C. L., 1996. Ectomycorrhizal communities with aspen on smelter-impacted sites: how ecosystems recover from airborne pollution. Abstracts of First International Conference on Mycorrhizae, Aug. 4-9, Univ. of Calif., Berkeley.
Cripps, C. L., and Miller, O.K., 1994. Western aspen stands: above ground mycorrhizal floras and below ground abundance and distribution of mycorrhizae. Abstracts of 5th International Mycological Congress, Aug. 14-21, Vancouver, British Columbia, Canada.
Miller, O.K., Miller, H., Bailey, M., and C. L. Cripps, 1994. Check-list of Montana Fungi (unpublished). , submitted in part to Terrestrial Section, Survey of Higher Fungi. Columbia River Basin Study.
Prof. Dr. Egon H O R A K, Co-Principal Investigator
Egon Horak is professor and curator of crytogams at the Swiss National Plant Herbarium (Z+ZT) in the Geobotanical Institute, Federal Institute of Technology in Zurich, Switzerland. He received his Ph.D from the University of Innsbruck, Austria with graduate advisor Prof. Dr. Meinhard Moser. Egon has traveled the world collecting agarics for the herbarium, including trips all continents, and is considered the Indiana Jones of the mycological set, turning up everywhere from the tropics of New Guinea to the frozen wastes of Antarctic. He is a leading expert on alpine agarics, and a founding member of the International Symposia of Arctic-Alpine Mycology (ISAM) in 1980. He was responsible for the organization of two ISAM-Meetings (Switzerland, France), 1984 and 1992. He specializes in the taxonomy and ecology of the Basidiomycota, with strong specialties in the agaric genera Asterosporina, Entoloma, Galerina, and Cortinarius---all very prolific genera in alpine habitats!

Publications on Alpine Agaricales:
Horak, E. 1987a. Astrosporina in the alpine zone of the Swiss National Park (SNP) and adjacent regions. In: Laursen, G., Ammirati, J. & Redhead, S.A. (eds.): Arctic and Alpine Mycology. ISAM II. pp. 205-234.
Horak, E. 1987e. Revision der von J. Favre aus der Region des Schweizer Nationalparkes beschriebenen alpinen Arten von Cortinarius subgen. Telamonia (Agaricales). Candollea: 42: 771-803.
Horak, E. & O.K. Miller, O.K. 1992. Phaeogalera and Galerina in arctic-subarctic Alaska (USA) and the Yukon Territory (Canada) . Can. J. Bot. 70: 414-433.

Horak, E. 1993a. Entoloma in the alpine zone of the Alps: 1. Revision of the taxa described by J. Favre (1955). - 2. New records from the Swiss National Park and other locations in the Alps. Bibl. Mycol. 150: 63-91.

Ortega, A., Esteve-Raventos, F., Villareal, M. & Horak, E. 1997. The alpine mycobiota of Sierra Nevada (Andalucia, Spain). Part 1. Bol. Gr. Mycol. Bresadola (BGMB) 40: 367-384.
Additional relevant publications:
Horak, E. 1982a. Agaricales in Antarctica and Subantarctica: distribution, ecology, and taxonomy. In Laursen, G. & Ammirati, J. (eds.): "Arctic and Alpine Mycology", ISAM 1 (Univ. Washington Press, Seattle & London), pp. 82-122.
Horak, E. 1993b. Distribution and ecology of Arctic-alpine species of Galerina and Phaeogalera in the northern and southern hemisphere. Sydowia 45: 346-376.
Horak, E. 1985. Die Pilzflora (Macromycetes) und ihre Oekologie in fünf Pflanzengesellschaften der montan-subalpinen Stufe des Unterengadins (Schweiz). Ergebn. wiss. Unters. Schweiz. Nat. Park XII (C I 4): C 337 - C 476.
Horak, E. 1981a. On Himalayan species of Astrosporina and Inocybe (Agaricales). Persoonia 11: 303-310.

Horak, E. 1987c. Ueber neue und systematisch interessante Agaricales aus der alpinen Zone der Alpen. Sydowia 39: 104-123.
Student Investigators
Todd Sarah Cathy Leslie Cathy, Leslie, Sarah, Todd, Angela
Todd Osmundson: Graduate Student, Arctic-alpine Laccaria, Montana State University
Sarah Klingsporn: Undergraduate Scholar, Psychrophilic Alpine Fungi, MSU
Leslie Eddington: Undergraduate Scholar, Mycorrhizal Relationships, MSU